If you're looking for an Ibanez piccolo guitar review, this post is for you!
I actually don't own an Ibanez piccolo guitar, but I do own its closely related cousin instrument, a guitalele.
In case you didn't know, a guitalele is a hybrid guitar/ukulele with six nylon strings tuned up a fourth from standard guitar tuning to ADGCEA just like a piccolo guitar.
In other words, the primary difference between a guitalele and a piccolo is that the guitalele has nylon strings and a piccolo guitar has steel strings.
There are a few other differences that I mention in my article, guitalele vs piccolo guitar.
But, in general, these instruments are very similar.
In fact, when researching novelty guitars and guitar hybrids, I nearly purchased an Ibanez piccolo guitar.
Instead, I chose Caramel's guitalele.
And I've even experimented with putting steel strings on my guitalele to make it even more similar to a piccolo.
(Side note: only do this if your guitalele has a truss rod! Otherwise, steel strings could warp or break your guitalele's neck.)
Thus, even though I don't own an Ibanez piccolo, I've done a bit of research on it and thought I'd include it here on the blog.
About Ibanez Piccolo Guitars
Ibanez Guitars released the EWP series as a piccolo guitar line, meaning the instrument is more like a small steel-string guitar than a big ukulele.
Thus, an Ibanez EWP piccolo will have features similar to a steel-string guitar.
Likewise, this instrument will have steel strings instead of nylon strings like a guitalele.
Some think of the piccolo guitar as just a travel guitar.
However, the quality of materials and design as well as its own unique tuning make it an instrument in its own right in my opinion.
Ibanez EWP Series
Ibanez has released two models within the EWP series.
I'll discuss them each in turn.
Here are some of this instrument's specs:
Body Material: Ovangkol wood
Neck Material: Okoume wood
Fretboard Material: Rosewood
Top Material: Rosewood
Frets: 19
Scale: 17"
SIZE
| | | | |
| --- | --- | --- | --- |
| Model | Length | Width | Depth |
| Piccolo EWP140-OPN by Ibanez Guitars | 35 | 9.375 | 2.875 |
| | 30.5 | 10 | 3 |
| | 37 | 17 | 7 |
I actually had a very hard time finding consistent sizing for these instruments.
So take these measurements with a grain of salt.
But in general, a piccolo is longer than a guitalele but shorter and smaller than a requinto.
Also, many prefer ovangkol wood to a more traditional mahogany body and spruce top.
The rosewood fretboard and the inlays are similar to a regular folk guitar. But, they may feel narrow given the smaller scale of the instrument.
The bridge system is similar to that of a folk guitar, using pins to lock the string's ball-end.
In this quick review, Ed shows us the type of sound we can expect from the 140-OPN model
In my opinion, this instrument has a smaller treble sound.
I'll discuss this more below.
Strings
Keep in mind that the tuning intervals are the same as a guitar, but in a higher register – ADGCEA. As a result, you can still play the chord shapes and licks you already know on the guitar.
And if you come from a ukulele background, you will know four of the six strings of your chord shapes since the uke shares the same four strings as a piccolo's top four strings.
As for which strings to purchase for your piccolo, I recommend these.
I use these extra light elixirs on nearly all of my acoustic instruments and guitar hybrids.
They keep their tone forever and are a light enough gauge to not put undue stress on your instrument's neck with the standard A to A tuning.
Tone
In terms of tone, this instrument sounds ok.
To me, it's hard not to be disappointed with its sound, expecting the sound you would get from a full-size acoustic.
That said, you can still get a decent balance between the low and high register when playing soft acoustic songs.
In short, this instrument is more suited for the living room rather than the concert hall.
This piccolo's somewhat unimpressive sound is part of the reason why I chose to purchase a guitalele over a piccolo.
Although a guitalele also won't resonate quite like a full-size nylon string guitar, the guitalele style seems more in keeping with a smaller, warmer-sounding instrument.
On the other hand, the piccolo can sometimes just sound thin to me.
That said, I love novelty instruments and still may purchase a piccolo.
Specs:
Body Material: Okoume wood
Neck Material: Okoume wood
Fretboard Material: Ebony
Top Material: Okoume wood
Frets: 19
Scale: 17"
Size and materials
| | | | |
| --- | --- | --- | --- |
| Model | Length | Width | Depth |
| Ibanez EWP13 | 44 | 19 | 5 |
Like I mentioned above, I've found different/inconsistent/incomplete sizing on various websites.
So again, take these measurements with a grain of salt!
The okoume wood materials provide a smaller sound than that of the ovangkol wood. However, this may be an ideal feature if you're looking for a mellow sound.
Some say the higher register benefits more from the okoume wood.
And of course, its smaller size makes the EWP13 quite portable.
This model also uses the Ibanez Advantage bridge system consisting of smaller bridge pins with a stopper that is supposed to prevent the ball-end from breaking out of the bridge as illustrated below: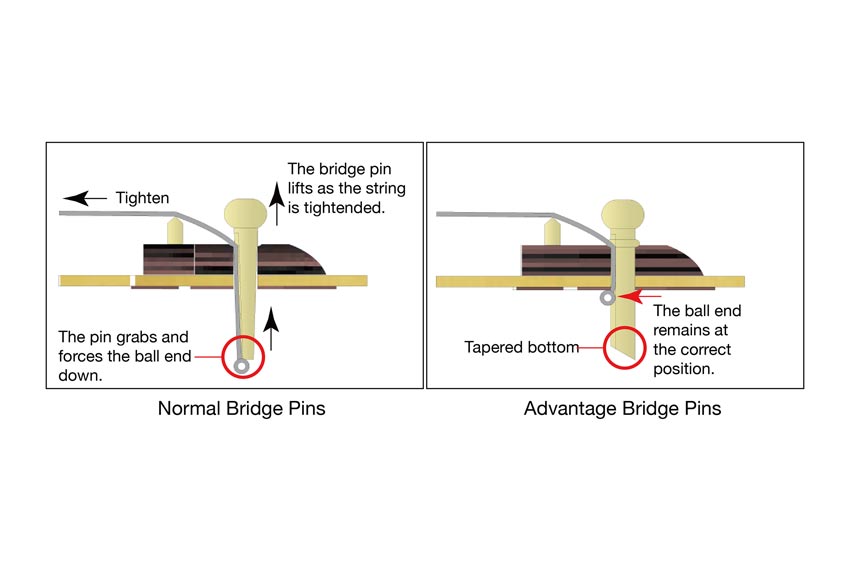 Strings
The Ibanez EWP13 also carries steel strings supported by a truss rod that ensures proper intonation.
Like I mentioned above, I recommend these strings for your piccolo.
I use them on nearly all of my acoustic instruments!
Tone
Here's a video review to help you get a sense of this instrument's sound.
It's hard for me to tell if this instrument is just out of tune or really sounds this bad.
I'm hoping it just needs tuning.
In any case, these review videos along with poor Amazon reviews lead me away from purchasing either piccolo from Ibanez and instead purchasing a guitalele.
Ibanez Piccolo Guitar Review: Conclusion
I hope this Ibanez piccolo guitar review has helped you get a better understanding of these instruments!
If you have any other questions about them or guitaleles, feel free to let me know in the comments.
I don't know if I will be able to help, but I'd love to try.